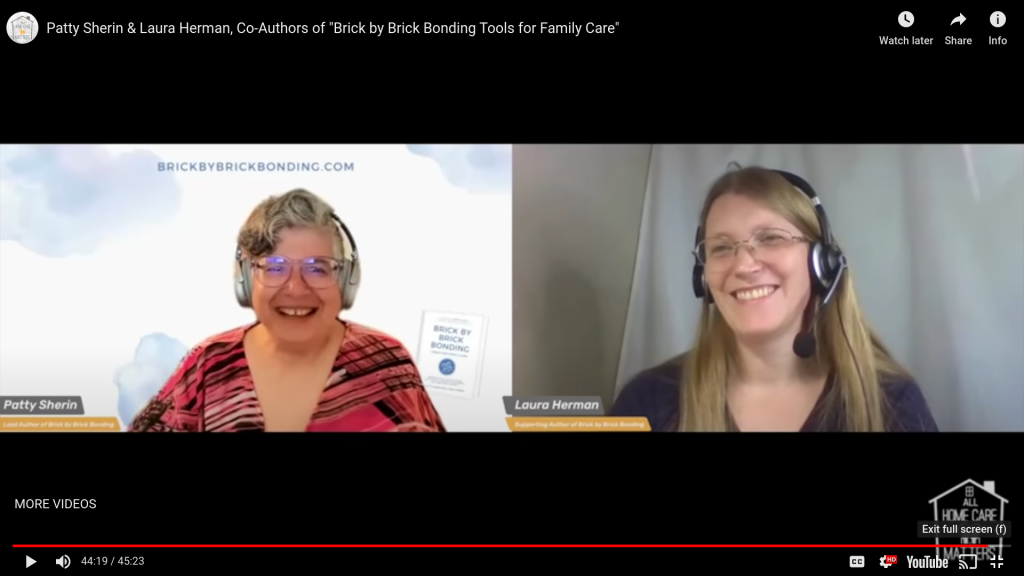 Patty Sherin and Laura Herman, authors of the book "Brick By Brick Bonding: Tools for Family Care," recently appeared as guests on the popular podcast All Home Care Matters.
All Homecare Matters podcast is a valuable resource that connects families with expert knowledge and tools to navigate caregiving effectively.
Hosted by Lance Slatton, All Homecare Matters has gained recognition for providing expert advice and insights on aging, caregiving, and home care-related matters. During their visit with Lance, Patty, and Laura discuss the Brick By Brick Bonding™ method and ways to connect more fully with people with dementia.
A form of dementia art therapy using LEGO® bricks and pieces as a medium, Brick By Brick Bonding is a simple yet innovative approach to connecting with people with advanced dementia through the power of play and mindful acceptance. The method provides the potential for a long list of benefits for the person living with dementia, including improved hand-eye coordination, self-expression, and valuable opportunities to exert choice and control in their lives. It also provides therapeutic value to the care partners, who can benefit from mini-periods of respite to relax and recharge even in the middle of a challenging day.
Throughout the conversation, Patty and Laura emphasize the importance of communication, understanding, and letting go of expectations in dementia caregiving – and the importance of pursuing and creating joy wherever it can be found.
Access the Brick By Brick Bonding episode directly and catch the other valuable episodes of All Home Care Matters for additional resources, tips, and valuable expert discussions on important topics relating to aging and long-term care.
About Patty Sherin:
Patty Sherin created the Brick By Brick Bonding™ method and author of the book Brick By Brick Bonding: Tools for Family Care: Activities for Seniors Living with Alzheimer's and Dementia and Their Care Partners. Additionally, she is a Certified Caregiving Consultant, a lover of LEGO art, and a passionate pursuer of joy.
About Laura Herman:
Laura Herman is a Dementia Care Writer and Consultant. She's passionate about dementia care and loves helping family caregivers better understand their loved one's behavior in order to help them feel and function at their best. Laura collaborated with Patty on the book Brick By Brick Bonding and is also the author of Hilltop Heights, a non-fiction collection of stories from her days as a memory care aide, and ABC Dementia a blog that focuses on Appreciating Behavioral Communication in Dementia.
About All Home Care Matters:
Hosted by Lance Slatton, all Home Care Matters is a leading podcast devoted to discussing all things home care with a following of over 12 million viewers. Dedicated to helping families navigate the world of aging and long-term care, this valuable podcast features expert guests who share valuable resources, tips, and important discussions about the issues that matter to caregivers and older adults today.
Subscribe to the Brick By Brick Bonding Newsletter and Receive a list of resources and valuable suggestions on "How to Connect with a Person with Advanced Dementia"!