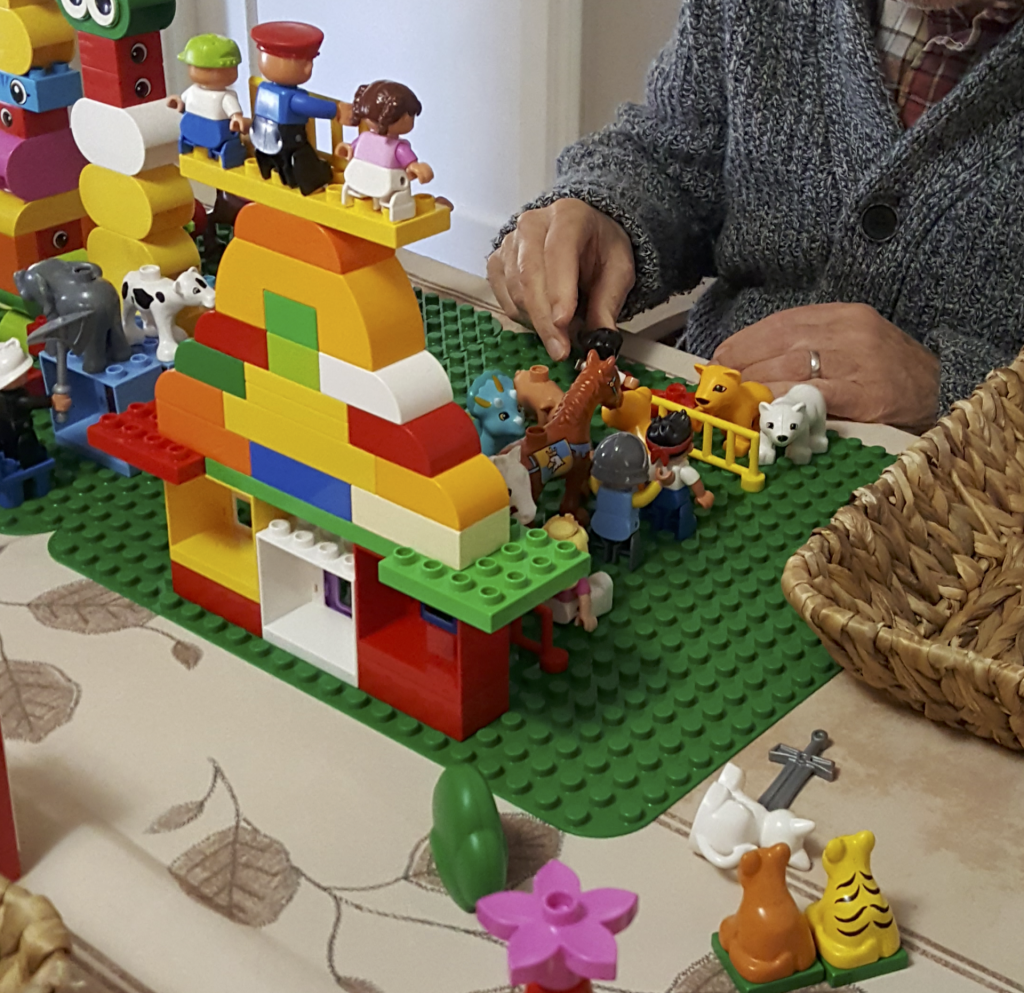 Supporting Older Adults with Dementia to Build with LEGO bricks and pieces
By Laura Herman, Dementia Care Professional, Writer, and Consultant
Dementia can wreak havoc on a person's capacity to communicate and express oneself. Imagine the frustration of being stuck in a body that will not let you easily share your opinions, needs, or preferences.
It's widely recognized that art therapy can help people with dementia express themselves and feel better for it.
Brick By Brick Bonding enables our carees to express themselves freely. They can choose the Minifigures, accessories, and bricks that catch their eye. Select the shapes, sizes, and colors that resonate with their mood. They can choose to connect pieces or not. Build them right-side up or upside down. Embrace the unconventional!
There is no right or wrong way to build! As long as they are engaged in some way, the benefits of Brick by Brick Bonding Sessions abound.
But there are ways professional and family caregivers can better support those we're caring for in their building endeavors. Let's take a look at the five most common types of LEGO DUPLO Builders, what makes them so special, and how to best support each one.
The Five Types of Brick By Brick Bonding Builders
From all the years of working with seniors living with dementia, five types of builders have emerged: The Builder, the Sorter, the Designer, the Innovator, and the Purpose Seeker.
The Builder
Builders are never afraid to try a new connection, or to stack their bricks high!
The Builder loves stacking bricks on top of one another to build tall towers. Some are balanced, but others are not. There may or may not be an obvious purpose for the next brick. The Builder simply enjoys the process.
Watch out for towers that grow too tall – sometimes they topple, which can be upsetting.
Builder Tips
When the tower is starting to get too tall, intervene before it topples. You can rotate the baseplate, so they are building on a different part of it. Join their build for a few minutes to improve stability and support for their towers with interlocking pieces.Learn how to lock pieces together on our YouTube Channel @brickbybrickbonding
The Sorter
Sorters are often found sorting pieces and arranging them in piles of similar bricks. Sorters may arrange bricks from color, shape, size – or criteria that might not be obvious to the outside eye!
Sorting through LEGO bricks and pieces can be soothing and surprisingly satisfying!
Sorter Tips
Provide small bowls or containers so they can organize their bricks and pieces to their liking.Celebrate their efforts with happy comments and sincere praise. For example, "You've found so many blue pieces!"
The Designer
Designers are the folks that build with whatever piece they see first. Whether it is a brick or Minifigure, the piece drives their build. One day they might build a tower, the next they may focus on Minifigures, and on another, they will incorporate both.
Designers can do or build anything. The options are endless.
Designer Tips
Let Designers do their thing. Support and encourage their efforts, wherever they may be. Offer or place pieces nearby that might compliment their builds, such as Minifigures and accessories to populate their farm or town.Ask questions about the Minifigures in their build. Where are they going? What are they doing?Join in by building a location or activity that expands on their creation.
The Innovator
Innovators are fascinated with most of the pieces you put in front of them and can come up with creative and delightful new ways to connect the bricks and pieces. They love to line up and talk to Minifigures and the animals or use them to act out little scenes.
Innovator Tips
Make sure Innovators have access to plenty of Minifigures, animals, and accessories to tell their storiesExperiment with keeping their sets intact from one session to the next, if possibleTry using familiar backdrops and settings, as well as opting for new ones. Which does your Innovator prefer?Build simple houses, gardens, farms, or other scenes and casually leave them nearby. How does your Innovator respond?Take things apart for a fresh new idea. Never underestimate the power of a blank canvas.
The Purpose Seeker
Every so often you'll find someone who doesn't want to build. "I don't play games," they might say. "I have important things to do."
Most humans have a strong drive to feel valuable and a desire to do things we believe are purposeful, and we all find purpose in different activities.
If your caree doesn't find purpose in "playing" with LEGO, see if you can find an aspect about it that they will find valuable, or even add purpose to it. Adding purpose can be as simple as asking for their help.
For example, you can tell your caree you need to count, sort, prepare, or get the LEGO pieces ready for "the children'' and watch any reservation they may have had about "playing with toys" – which likely is touching a deep wound they feel because they never had the chance to play as a child, or insecurity over feeling so vulnerable and child-like now – vanish.
However, if asking for help doesn't feel right in your situation, try just asking for their company as you build. Chances are good that, soon enough, they'll pick up a brick, followed by another, and then another. Even if they don't, try asking for their opinion about your build when the moment feels right.
The opportunity to have and share an opinion – and to have it validated and valued – is extremely beneficial to many people with dementia, who may have limited chances to do so. It can boost their self-esteem considerably. It can also provide an outlet to achieve this recognition, so it can reduce their general frustration and lighten their load as they go through the rest of the day.
Purpose Seeker Tips
Find out what your caree, specifically, finds meaningful. Do they want to help you? Help children? Tell a story? Share an opinion?Try asking for their company as you build. Leave a few bricks and pieces within their reach.Ask for their opinion, and value it when offered.Keep at it. It may take several tries over several sessions.Don't push too hard or you may strengthen their resistance.
There's No Wrong Way to Build!
Regardless of how your caree chooses to build, create, participate, or express themselves with LEGO bricks and pieces, there's no way to go wrong!
Brick By Brick Bonding is about encouraging your caree to express themselves and respecting whatever they feel is right. Erase the words "no", "wrong", and "not like that" from your vocabulary! The importance of this point cannot be overstated!
So honor, embrace, and support whatever type of builder your caree chooses to be. Release your expectations and meet them wherever they are if it changes over time.
Check out our article on how to choose the right set for your Brick By Brick Bonding Session.