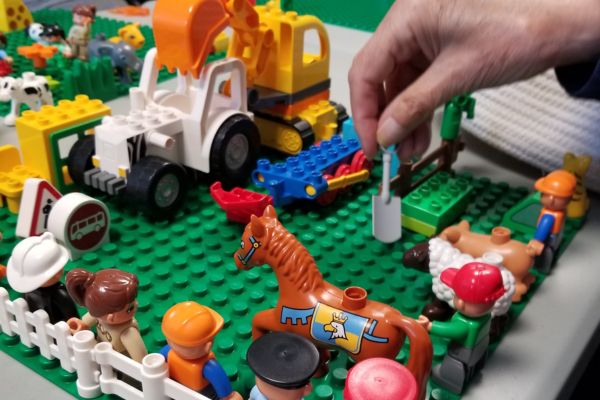 How to Select the Right LEGO Set for Brick By Brick Bonding with a Caree with Dementia
By Patty Sherin, Certified Caregiving Consultant, Author, and Play Expert
"Which set should I get?" is one of the main questions I hear from caregivers getting started with Brick By Brick Bonding. To answer this question, it can help to understand the options.
Disclaimer: On this page I will link to LEGO Duplo® sets for your convenience. I may receive a small commission if you purchase something through the links below to help pay for this website. I recommend LEGO bricks and pieces because I have used their pieces in many different settings and with all age groups. Pieces made 50-60 years ago still work and perform beautifully today. I trust LEGO's high quality craftsmanship. I do not use knockoffs, I cannot vouch for the quality of non-LEGO products.
System Bricks
The LEGO Group has created what they call three systems of play. The standard bricks and pieces that most people think of when they think of LEGO are called "system" bricks.
Duplo
Duplo was introduced in 1969 for children ages 1 ½ to five years old. After trying various prototypes, they decided on a 2:1 scale, double the size of system bricks. They named this new system Duplo after duplus, the Latin word for double. Godtfred Kirk Christiansen, the owner of the LEGO Group at the time, wanted a system of play for younger children for three main reasons.
First, he was concerned for the safety of younger children who were playing with their older brothers' and sisters' system bricks. He insisted that every Duplo piece pass rigorous safety standards, including a "choke test" to ensure they would be completely safe.
Second, he sought to provide a toy that would be durable enough to last for generations and could be used in conjunction with system bricks.
Finally, the LEGO Group found that by building, unbuilding, and rebuilding toddlers boost their resilience. In my experience, the same is true for older adults. I have watched their resilience grow as they build, unbuild, and build again.
TechnicTM
The third system of play, called Technic, includes gears and motors. Any LEGO set that moves or can be programmed includes Technic pieces. They're used in LEGO robotic and engineering classes and can be used in specialty builds, such as great ball contraptions (GBC) which are designed to move a ball from one place to another in crazy, fun, and creative ways. Technic pieces are usually sold and used in combination with system bricks and pieces.
Opt for Duplo
So, which set should you get? I almost always recommend using Duplo pieces for safety reasons. I have seen seniors put LEGO in their mouths and I was so grateful they were the Duplo pieces! System bricks could have been a catastrophe! I have also seen folks with depth perception challenges and fine motor skill issues have trouble with system bricks. System bricks are simply too small for folks with arthritis. Duplo is the perfect size for seniors. They fit nicely in the hand, are easier to manage, and are safer to boot.
I usually recommend starting with a couple of Duplo baseplates, so you have a foundation to build on. Baseplates and Duplo sets can be found at many stores, like Target, Walmart, Barnes and Noble, as well as, of course, the LEGO store or website.
Cats, dogs, and people tend to be very important Minifigures to include for most older adults. If your caree is a horse-lover, or used to live on a farm, the horse or barnyard animals are also excellent additions.
New sets can be expensive. You can usually find them for less from thrift stores or craigslist.
If you are looking for specific types of pieces, consider Bricklink.com, a third-party marketplace for LEGO pieces and accessories, or vendors at LEGO fan conventions. That is how I grew my Minifigure and accessory collection. Avoid eBay for loose parts. However, you can find good deals there for closed box sets.
Do not forget to ask your friends, neighbors, or communities. Many people have buckets of bricks in their attic or basement from when they or their kids were little.
Brick By Brick Bonding Starter Sets
Here are a few sets to help you get started.
Classic LEGO Duplo Green Baseplate #10980
Make sure you get a LEGO Duplo baseplate. The classic baseplate will not work. You need a Duplo baseplate. Every kit can begin with a baseplate. Baseplates make it easy to attach pieces to start your scene or build. I recommend you get two, one for your caree and one for you.
LEGO Duplo Classic Brick Box Set #10913
With the Classic Brick box set you can learn what your caree likes and find out what type of builder they are. Check out our article, Five Types of LEGO Builders with Dementia.
LEGO Duplo Classic Alphabet Town Set #10935
This is a great way to use letters and make small words. I've had many carees enjoy the letters and number sets. Incorporate these pieces into your builds. The roof tiles are also handy for making buildings. This set has a boy, girl, and dog. It also has two flowers, windows, and several arches for making doorways or alleys.
Memory Lane
Reminiscence therapy is known to be very helpful for people with dementia. There have been many studies demonstrating its benefits, such as improved mood, cognition, and communication. Reminiscing with someone with dementia can take many forms, but it can be as simple as reliving old memories together. Focusing on those memories that bring up positive feelings and help remind your caree who they are is usually a good idea, although there is something to be said for holding space when someone needs to process long-buried difficult emotions as well.
To incorporate reminiscing into your Brick By Brick Bonding session, keep these pointers in mind.
Ask open-ended questions
Avoid questions altogether if warranted
Incorporate the oldies
Use minifigures to tell stories
Please refer to the Brick By Brick Bonding book for a more detailed explanation of each of these points.
LEGO DUPLO My First Animal Train Set #10955
This set can be used like a puzzle that is not too overwhelming with only two or three pieces for each animal. The faces are so engaging. I've had carees enjoy these types of sets for years. The train pieces themselves are versatile as well. I like to use them to build characters with them. The wheels can be eyes for your character.
LEGO Duplo Town Family Camping Van Adventure Set #10946
Do you enjoy the outdoors? This camping set comes with a mom, dad, boy, and girl. It includes a fire pit, fire, and teapot. The other accessories that are great to own in your collection are the camera and guitar. This set also includes a squirrel, a camper van with removable roof, fabric tent, and a canoe. Everything you need for your next camping adventure!
LEGO Duplo Town Farm Animal Care Set #10949
This is a fun set to start your animal farm. This set comes with a cat, pig, sheep, and duck. Of course, a LEGO flower is always a fun piece to have in your collection. The window piece is a usual favorite due to the ability to open and close the window.
Nature's Wonders
LEGO Duplo Wild Animals of South America Set #10973
If you are looking for nature and animals, this is a great set to get. The leaves and the number of flowers in the set is wonderful. The monkeys, llama, toucan, sloth, and crocodile are so much fun! If your caree loved the outdoors or traveling to South America, this set would be for you. It even comes with bananas and a pineapple. The waterfall is a great touch.
LEGO Duplo Wild Animals of Europe Set #10979
The wild animals of Europe set focuses on forest animals. It comes with a deer, bear, fox, squirrel, lots of flowers, and both small and large trees. This set would be great to expand your nature collection. The printed mushroom 2×2 pieces and the honey bee hive are fun pieces to have.
LEGO Duplo Wild Animals of Asia Set #10974
You might prefer a set of animals from Asia which include a baby and momma elephant, panda bears, monkeys, tigers, and birds. The flowers make the tree look like cherry blossoms and the bamboo-printed round bricks are so much fun! This set also includes translucent blue pieces to simulate water.
Everyday Heroes
LEGO Duplo Town Doctor Visit Set #10968
Let's encourage the idea that our medical professionals are our superheroes. This set can help define going to the doctor as a good thing. Yes, it can be scary but they are an important part of your support system. Let's use this set as a positive experience to lessen the fear of physical doctor visits.